Defendant found guilty in Lemon Creek fuel spill
March 4th, 2018
As the CBC reported on March 1, 2018, defendant Danny Lasante has been convicted in the British Columbia Provincial Court for his role in causing the spill of 35,000 litres of jet fuel into Lemon Creek in the Slocan Valley.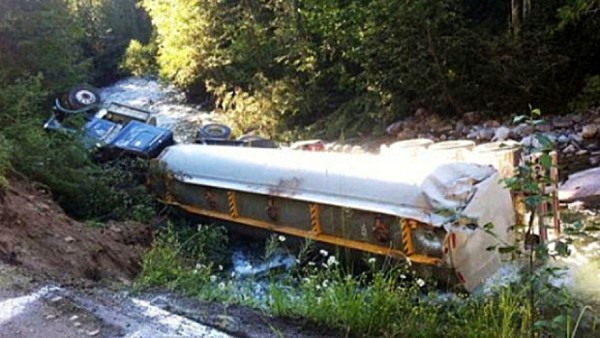 The court began its reasons for judgment by describing the horrific damage caused by this environmental disaster:
On July 26, 2013, a fuel tanker truck driven by the defendant Danny Lasante, containing 35,000 litres of Jet A-1 fuel oil, toppled off an embankment on Lemon Creek road and landed on its side in Lemon Creek. All of the fuel spilled or was washed into the creek. Jet A-1 fuel is an inherently dangerous substance. The deposit of that much of the fuel at one time caused harm and even death among the aquatic life in both Lemon Creek and downstream in the Slocan River. Fumes from the fuel dispersed widely. Local residents described experiencing nausea, headaches and burning eyes. Many were evacuated from their homes for a day or more in some cases. The clean-up effort, measured in years, was laborious and obviously costly.
As the CBC noted in its reporting, Rosenberg Law's Lemon Creek Fuel Spill Class Action against the government and corporate defendants responsible for this environmental disaster was recently certified by the B.C. Supreme Court and is scheduled to go to trial in January, 2019.