Rosenberg Law Congrats our Naomi Moses for their Call to the Bar of British Columbia
April 13th, 2018
We are thrilled — and more than a little proud — to announce that our Naomi Moses was, on April 6, 2018, officially presented to a special sitting of the British Columbia Supreme Court as the newest member of the Law Society of British Columbia.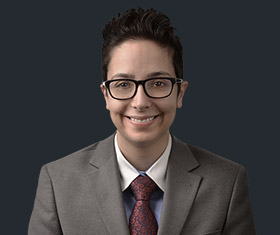 Naomi joined Rosenberg Law in November, 2017, after clerking for Justice Bennett at the British Columbia Court of Appeal. In their short time with us, Naomi has been intimately involved in a wide variety of litigation matters before all level of courts in Canada, including, most notably, the Supreme Court of Canada. Remarkably, Naomi's first appearance as counsel in any court — ever — was as lead lawyer arguing an application before the British Columbia Court of Appeal. No surprise: Naomi got their order.
It is with great gratitude and pride that we announce that Naomi has decided to stay on as an associate with Rosenberg Law. We look forward to being witness to the promising career of this exceptionally talented young lawyer.